Members of the IST team will be making their way to San Francisco next week for the RSA 2023 Conference. Megan Stifel, Zoë Brammer, Silas Cutler, and Elizabeth Vish will be moderating panels, attending sessions, and meeting RSA attendees.
The theme of this year's RSA conference is "Stronger Together," an idea that is particularly prevalent in our work. One of IST's core principles is convening; we would not be able to do the work we do without bringing members of the private sector, civil society, and government together to share their perspectives, experiences, and respective needs.
IST's Ransomware Task Force is a key example of "Stronger Together" in action. Since its inception in 2021, the RTF works across industries and governments to mitigate the threat of ransomware, deter cyber criminals from carrying out future attacks by disrupting the ransomware ecosystem as a whole, and respond effectively to attacks when they do occur.
Not only is the theme "Stronger Together" relevant to our work, but it also applies to the many initiatives and collectives in which we take part.
The Cyber Civil Defense Initiative, founded by philanthropist Craig Newmark, is a whole-of-society effort to protect individuals and small businesses against cybersecurity threats, expand cybersecurity education and literacy, and promote inclusion in the cyber field. It's centered around the idea that we must work together to defend ourselves against cyber threats and build up our collective resilience.
Another effort that we participate in is Nonprofit Cyber, a coalition of cybersecurity-focused nonprofits who collaborate on projects, align their efforts, and boost each other's tools, services, projects, and/or practices.
In our work, we also partner with organizations such as the Cyber Threat Alliance, which is a non-profit that promotes threat intelligence sharing amongst its members. Most recently, we worked with Cyber Threat Alliance to create the Cyber Incident Reporting Framework, which identifies a set of principles that the incident reporting regulation should incorporate and develops a set of model reporting formats the Cybersecurity and Infrastructure Security Agency (CISA) could use as the foundation for the reporting forms. 8 organizations came together to support the production of this framework, lending their unique backgrounds and perspectives to the effort. This framework was followed by a Cyber Incident Reporting Framework: Global Edition in March 2023, which brought together 6 organizations to create a cyber incident reporting framework with global contexts in mind. 
With the idea of "Stronger Together" in mind, we look forward to seeing you at the following panels! We anticipate robust discussions, welcome your questions, and hope to learn more about your diverse perspectives from across the cybersecurity ecosystem.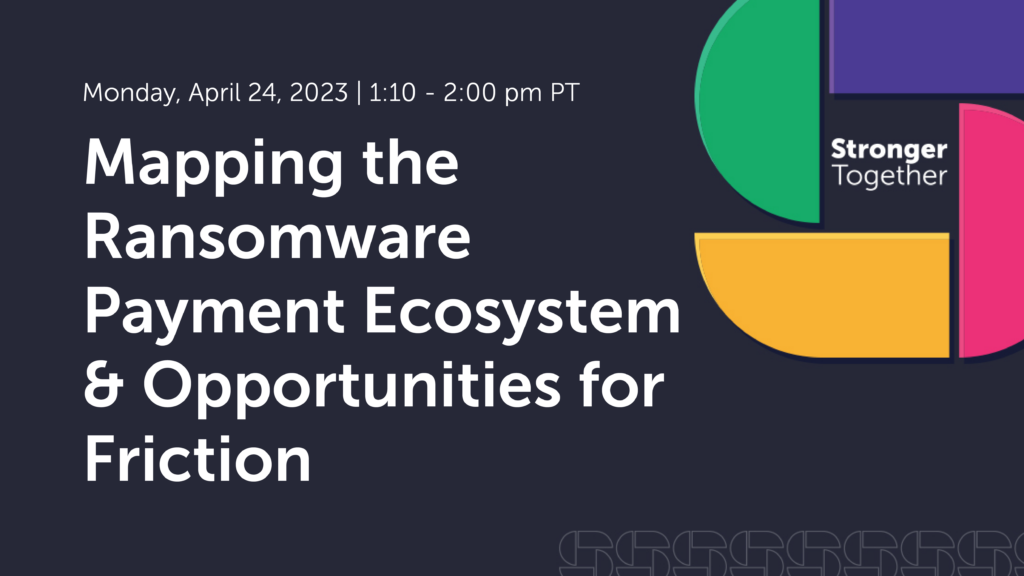 Monday, April 24 from 1:10-2:00 pm PT: Mapping the Ransomware Payment Ecosystem & Opportunities for Friction
Zoë Brammer will be joined by panelists Justin Herring, Jacqueline Koven (Head of Cyber Threat Intelligence at Chainalysis), and Matthew McCabe (General Counsel and Risk Officer at Kivu Consulting). The panel will dive into IST's ransomware payment ecosystem map, identify possible opportunities for disruption, and discuss how the cybersecurity community can help.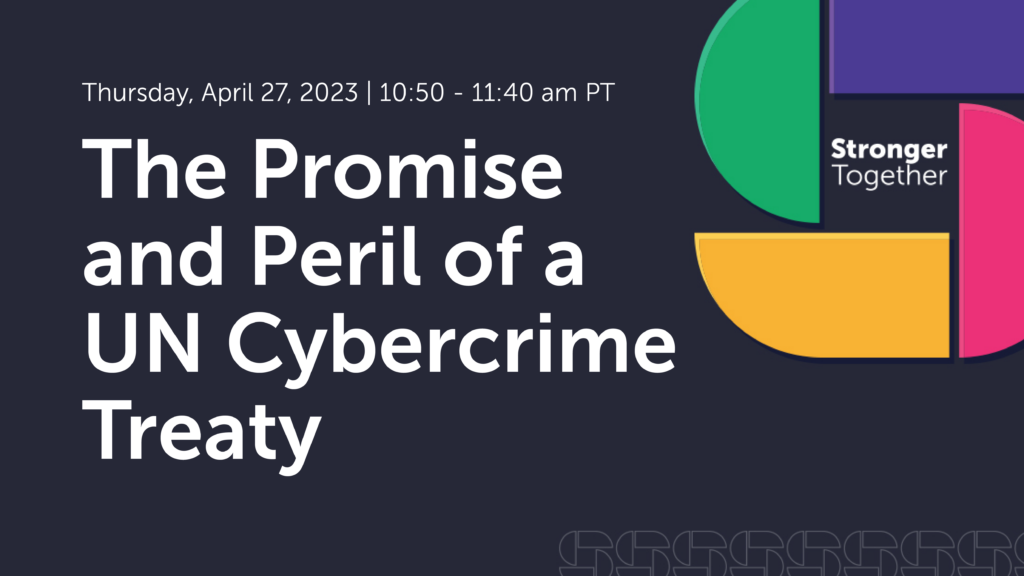 Thursday, April 27 from 10:50 – 11:40 am PT: The Promise and Peril of a UN Cybercrime Treaty
In light of the latest United Nations cybercrime treaty negotiations, what is at stake? How might the treaty intersect with existing international instruments for cooperation? Megan Stifel will moderate this session with John Hering (Senior Government Affairs Manager, Microsoft), Jane Lee (Senior Counsel, Computer Crime and Intellectual Property Section, U.S. Department of Justice), and Charley Snyder (Head of Security Policy, Google). The panel will explore implications for criminalization, human rights, and the private sector.
---
Not able to join us at the panels but still want to connect? Get in touch with us at [email protected].
For media requests, please reach out to [email protected].