Special event:
Combating Ransomware: A Year of Action
Reflections on the Ransomware Task Force's first year
---
Hacking in Plain Sight: Offensive Cyber Operations in the Russo-Ukrainian War
May 11, 2022 | 10:00am PT
When Russia invaded Ukraine, much was said about the perceived lack of cyber operations being used in the early part of the war. However, offensive cyber campaigns have indeed been key components of the ongoing conflict, and are important to investigate and understand.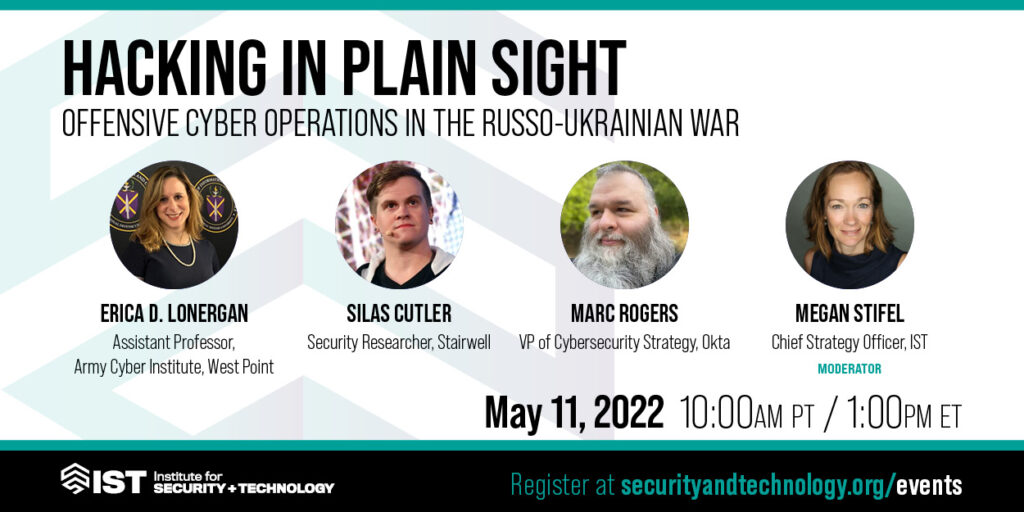 Join the Army Cyber Institute's Erica D. Lonergan, Stairwell's Silas Cutler, Okta's Marc Rogers, and IST's Megan Stifel for a conversation about the range of cyber operations seen in the Russo-Ukrainian war, how each country responded, the implications for both countries, and what we can learn when it comes to modern cyber operations in wartime.
---
Mini-Series: February-May 2022
Nuclear Proliferation in the 2020s
As technology evolves and the world navigates crises both natural and manmade, the prospect of continued nuclear proliferation looms heavily. Join IST's Leah Walker for a mini-series exploring the potential futures for nuclear proliferation in this decade, the lessons from modern case studies, and how technology can enable both proliferation or counterproliferation efforts.
Stay tuned here for the next event in the series.
---