The Institute for Security and Technology is excited today to announce the recipients of the inaugural Future Digital Security Leaders Fellowship. Through the generous support from Craig Newmark and Craig Newmark Philanthropies, IST set forth to increase the opportunities available in the national security field, and in doing so, strengthen our range of expertise as we respond to emerging security threats and design innovative national security solutions. Our new fellows come from different backgrounds and each brings incredible value to the team. With this fellowship, we sought to bring new, strong, and sharp voices into the national and cybersecurity worlds and we were incredibly impressed with the candidates that came forth. We are thrilled to have found three excellent fellows, who will not only help IST grow but challenge us to think about new things, in new ways.
It is thus with great excitement that we announce the recipients of the 2020 Future Digital Security Leaders Fellowship — Leah Walker, Joe Lucas, and Tasha Jhangiani.

Learn More About Our Fellowship Recipients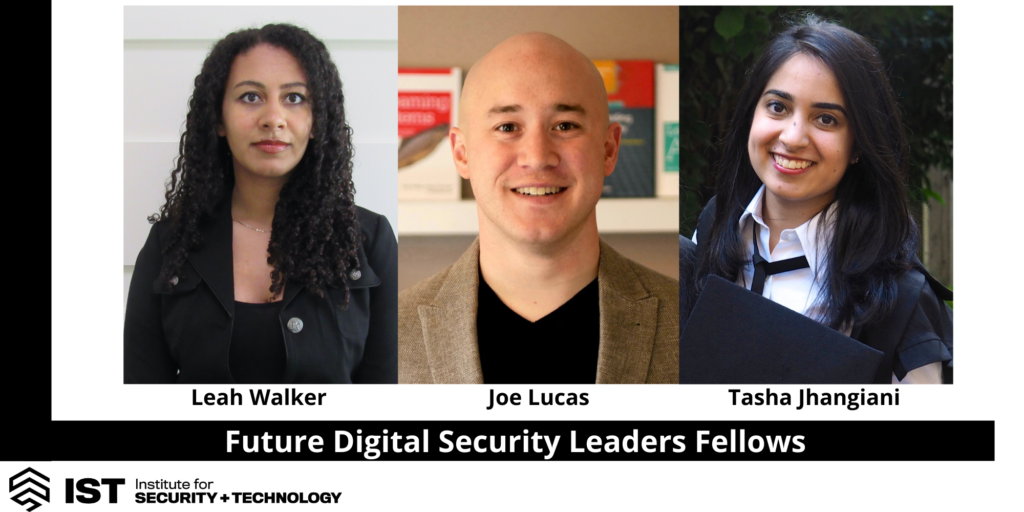 Leah Walker looks forward to contributing to IST projects on nuclear command, control, and communication, nuclear risk reduction, and digital threats to democracy. She has also been researching how nations respond to accidents in complex systems. Leah is already familiar with our team as she had the pleasure of being a team member in a project focused capacity throughout the year. Leah is grateful for the opportunity to continue her work in a larger capacity and to expand her research in emerging defense technologies. She sees the Future Digital Security Leaders Fellowship as an incredible chance to kick off her career in national security.

Joe Lucas brings his experience and passion for the space in which machine learning and cyber interact with national security to IST. As a career technologist focused on data and cybersecurity, Joe researches and proposes novel military applications for US Special Forces cyber operations and integrations at IST. He also explores challenges and opportunities in cybersecurity resulting from the proliferation of artificial intelligence. As a Future Digital Security Leader Fellow, Joe looks forward to learning more about public and private sector integration and the formation of policies for rapidly evolving technologies.
Tasha Jhangiani is excited for the opportunity to interact with key policymakers and technology leaders through IST. She aims to foster a mutual understanding of the key intersections between emerging tech and the international security community. A recent M.A. graduate from the George Washington University, Tasha's previous work concentrates on transnational security issues with an emphasis on cyber policy and emerging technologies. In addition to IST, Tasha also works as a government policy analyst, doing critical research on cyber strategy and national security.
We Couldn't Do It Alone

The Future Digital Security Leaders Fellowship would not have been possible without the generous support from Craig Newmark and Craig Newmark Philanthropies. True to his vision, the fellowship offers an opportunity for three aspiring young professionals in the technology, national security research, and policy analysis fields. Through our recruitment process, we strive to invest in a diverse pool of early-career practitioners, helping them become uniquely qualified experts. It is here, where we begin to invest in the future generation of national security and technology leaders. Interested in collaborating with IST? Visit our Network for Global Security page to learn how you can contribute to our team, our work, and our purpose.