A Better Future: Empowering Women In Technology and National Security
Women make immense contributions and provide daily leadership within national security and technology across the public, private and civil society sectors. However, there is still work to be done to ensure that women are empowered, have a seat at the decision-making table, and are provided opportunities for upward mobility. IST has the pleasure to welcome the following speakers who have been leading efforts to empower women and increase diversity at the intersection of these fields.
Congresswoman Robin Kelly (IL-2)
Lauren Buitta, Founder and CEO, Girl Security
Camille Stewart, Global Head of Product Security Strategy, Google
Alexa Wehsener, Research and Operations Manager, IST
Moderated by Vera Zakem, Senior Technology and Policy Advisor, IST
This one-hour live virtual event and Q&A took place on Tuesday, June 22 at 0800 PDT / 1000 CT/ 1100 EDT and was open to the public.

StratTech, IST's inaugural conference, examined novel, radical, and strategic approaches to the wicked problems facing the diagonals through which security and technology intersect. IST is committed to being a convener, bringing together government, industry, and civil society leaders and practitioners to better understand and advance solutions to the world's toughest security challenges.


Ransomware Task Force To Unveil Comprehensive Framework To Combat Ransomware

Ransomware is one of society's most pervasive threats and poses a critical risk to both national and global security. This destructive cybercrime, which results in staggering financial losses and puts human life at risk, will need commitment from every level of government and private industry to mitigate this evolving threat.
The Institute for Security and Technology (IST) — in partnership with a broad coalition of experts in industry, government, law enforcement, civil society, and international organizations who have joined IST's Ransomware Task Force (RTF) — will deliver a comprehensive framework to combat ransomware on Thursday, April 29. At 10 AM PT/1 PM ET. This online event will feature:
A Keynote from the Honorable Alejandro N. Mayorkas, U.S. Secretary of Homeland Security
Recommendations — A variety of engagements with the RTF Co-Chairs to delve into the challenges posed by the ransomware threat and the comprehensive framework:
Retired U.S. Army Major General John A. Davis, Vice President of Public Sector, Palo Alto Networks
Megan Stifel, Executive Director, Americas, Global Cyber Alliance
Michael Phillips, Chief Claims Officer, Resilience Insurance
Kemba Walden, Assistant General Counsel, Microsoft Digital Crimes Unit
Chris Painter, President, Global Forum on Cyber Expertise Foundation
Jen Ellis, Vice President of Community and Public Affairs, Rapid7
Michael Daniel, President & CEO, Cyber Threat Alliance
Philip Reiner, CEO, Institute for Security and Technology
Join us on Thursday, April 29th, 2021. Register now to save the date for this important conversation.
---


Balancing Global Innovation and Tech Dominance

Since the end of the last century, America has been the dominant global tech and innovation leader. For the first time in decades, that position is being challenged. In an era of lightning-fast scientific discovery and unprecedented technological innovation, with rising powers and new markets, how can the US better center itself for the coming tech and innovation competitions? What can Silicon Valley do to better position itself and maintain its importance and position as the center for innovation of the world? How can the US government help American tech stay dominant? What are the threats to US tech dominance and how can those be overcome?
For our panel discussion, we are pleased to welcome:
Dr. Sarah Sewall, Executive Vice President for Policy, In-Q-Tel.
Dr. Kori Schake, Director of Foreign and Defense Policy Studies, American Enterprise Institute (AEI)
Dr. Bilal Zuberi, Partner, Lux Capital
Moderated by Will Knight, Senior Writer, WIRED
This one-hour live virtual event and Q&A will take place on Wednesday, April 14 at 1100 PDT/ 1400 EDT.
---


Ransoms Without Borders: Attribution and Accountability With International Ransomware Threat Actors and Safe Havens
Modern financial crimes like ransomware present novel challenges for attribution and remediation. Where a bank robbery has a clear time, place, and set of actors, a ransomware attack may utilize infrastructure in neighboring countries, and involve threat actors that reside across the globe. So how can we address ransomware as a cross-border crime? This panel will discuss questions of attribution and accountability with international ransomware threat actors and the so-called "safe havens" where they avoid scrutiny, and explore possible interventions, both diplomatic and operational, to mitigate the growing ransomware threat.

For our panel discussion, we are pleased to welcome:

Jaya Baloo, Chief Information Security Officer (CISO) at Avast Software

Philipp Amann, Head of Strategy European Cybercrime Center (EC3), Europol

Josephine Wolff, Assistant Professor of Cybersecurity Policy, Tufts University

Moderated by Christopher Painter, President, Global Forum on Cyber Expertise Foundation
This one-hour live virtual event and Q&A took place on Thursday, March 25 at 1100 PDT/ 1400 EDT and was open to the public.
---

JADC2: The Complexity of Military Capabilities

As military capabilities continue to grow in complexity, so will the challenge to ensure their resilience. The Department of Defense is seeking to connect sensors from all four services under one network, in what is called JADC2 (Joint All-Domain Command and Control). The initiative is certainly not without criticism, but development, field testing, and deployment efforts continue to move forward as part of the solutions deemed necessary for dealing with increased great power competition in the early 21st century. While the US military is going full steam ahead with JADC2, there are lingering questions about the resilience, security, and potential vulnerabilities of such a vastly complex system of systems.
Is such a complex web of networks the solution to ensuring American military success in the 21st century? Systems and computer science experts state that complexity is the enemy of security, so with this in mind, what are the lessons for militaries looking to gain an advantage from machine learning and artificial intelligence, via massively networked and automated warfare? Even now, Russia, China, and other "insurgents" are able to circumvent the complexity of Western military systems through "grey zone" operations — yet our response is to create ever more complex systems. Are we building the right solutions to the problems we face?
For our panel discussion, we are pleased to welcome:
Jennifer McArdle, Product Strategist, Improbable and Adjunct Senior Fellow, CNAS
Mark Seip, Director for Strategic Development at MITRE's Center for Technology and National Security, and Adjunct Assistant Professor, Georgetown University
Michael Madsen, Deputy Director and Director of Strategic Engagement at the Defense Innovation Unit (DIU).
Moderated by Heather J. Richman, Founder, Defense Investor Network
This one-hour live virtual event and Q&A took place on Wednesday, March 3 at 1100 PST/ 1400 EST and was open to the public.
---


Cut Off The Cash: Cryptocurrency and Ransomware Payments
Ransomware is a cybercrime unique in its motivations; threat actors overwhelmingly use it as a tool for financial gain. These actors consistently demand ransom payments in cryptocurrencies, obscuring the ransom payment process and moving it to the digital domain. But how reliant is the success of ransomware on the use of cryptocurrency, and how anonymous are these coins? Our panel of experts will discuss this interaction, analyze elements of this process that help or hinder tracking ransomware payments, and identify possible avenues for intervention.
We are pleased to welcome:
Pamela Clegg, CipherTrace
John Kothanek, Coinbase
Don Spies, Chainalysis
SSA Joel Decapua, Federal Bureau of Investigation (FBI)
Moderated by Neil Jenkins, Cyber Threat Alliance
This one-hour live virtual event and Q&A took place on Thursday, February 25 at 1100 PST/ 1400 EST and was open to the public.

---


Building Citizen Resilience To Combat Disinformation
The existence of disinformation, conspiracy theories, the growth of online extremism, the role of social media, and the pace at which we consume information, presents enormous challenges to our democratic institutions and processes. Understanding that there is a human element in how disinformation attackers target citizens and how these citizens consume media, new tools are needed for citizens and the next generation to effectively discern everything from inaccurate information to manipulative sources. A key element to addressing challenges posed by disinformation is building resilient democratic societies through essential components including digital literacy and cyber education. IST invites you for this panel discussion to discuss the need for cyber citizenship initiatives as measures to counter disinformation.
We are pleased to welcome:
Kristin Lord, President and CEO, IREX
Lauren Buitta, Founder and CEO, Girl Security
Peter W. Singer, Strategist, New America
Olya Gurevich, Co-founder & Chief Scientist, Marvelous AI
Moderated by Vera Zakem, Senior Technology and Policy Advisor, IST
This one-hour live virtual event and Q&A will take place on Wednesday, February 10 at 1100 PST/ 1400 EST and is open to the public. This event will be hosted on our website at www.securityandtechnology.org/events. We encourage you to submit your questions via Eventbrite Registration or direct message us with your questions on any social platform before or during the event.
---


Debate: After SolarWinds: Dual Hatting, and the Implications for A National Cybersecurity Strategy
As one of the biggest cyberattacks to have targeted the US government and private industry in recent years, the 'SolarWinds hack' revealed significant implications for future government cybersecurity strategies. Despite SolarWinds software's broad use across the federal government, private-sector companies including FireEye, Microsoft, and GoDaddy were the first to discover and counter this attack. Was the success of this cyber-espionage a failure of US Cyber Command's (USCC) "defend forward" strategy? Does the SolarWinds hack support abolishing the practice of dual-hatting the USCC Commander and Director of the NSA? The Institute for Security and Technology (IST) will host this debate on these critical questions and assess the implications of the SolarWinds hack on the U.S. government's role in cybersecurity defense and a broader national cybersecurity strategy.
We are pleased to welcome:
Susan Hennessey, Senior Fellow – Governance Studies, Brookings Institute and Executive Editor, Lawfare
Bryson Bort, Founder, and CEO, SCYTHE
Erica Borghard, Senior Fellow, Atlantic Council; Senior Director, Cyberspace Solarium Commission.
JD Work, Bren Chair for Cyber Conflict and Security, Marine Corps University
Moderated by Robert Knake, Whitney Shepardson Senior Fellow, Council on Foreign Relations (CFR)
This one-hour live virtual event and Q&A took place Thursday, January 14 at 1300 PST/ 1600 EST and was open to the public. Disclaimer: Views expressed during this public event are personal speaker views and do not represent the organizations they are affiliated with.
---

Cyber Pop-Up: Kubernetes, DevSecOps, and Security in the DoD
New technologies are making waves in the Department of Defense. With the launch of the DoD Enterprise DevSecOps Initiative, DoD engineers have slashed the software delivery timeline, and what used to take years to develop can now be released in months. The introduction of Kubernetes, an open-source tool for managing and scaling applications, led to the groundbreaking installation of Kubernetes in the legacy hardware of an F-16, and most recently, on a U-2 Dragon Lady aircraft to run machine learning algorithms.
But what does cybersecurity look like in a legacy warfighter? The Institute for Security and Technology invites you to an in-depth discussion with security experts from industry and government on the use of emerging technologies in the DoD, how to bake security into software development, and how to create effective collaborations between public and private partners. We have the pleasure of speaking with;
Amélie Koran, Senior Technology Advocate, Splunk
Dan Tentler, Executive Founder, Phobos Group
Michael Medellin, Director of Engineering, Kessel Run, U.S. Air Force
Moderated by Ali Golshan, Co-Founder and CTO, StackRox
This one-hour live virtual event and Q&A took place on Tuesday, December 15 at 1100 PST/ 1400 EST and was open to the public.
---
Biden Administration Cyber Agenda Discussion
As the world prepares for the incoming Biden/Harris White House, it is expected that the new U.S. administration will make cybersecurity a top-tier national security priority. The incoming Biden administration has recognized election security as a priority, promising to increase investments to state and local governments for upgraded election technology and increase oversight of private election vendors. Their cybersecurity platform aims to enact stronger consumer privacy and security standards as well as confront foreign election interference, China's 5G ambitions, and the potential of a future global malware outbreak.
IST is excited to host the following technology and policy experts to discuss the Biden administration's expected leadership, projected cyber strategies, and the implications for both domestic and international politics:
Chris Painter, President, Global Forum on Cyber Expertise Foundation
Kemba Walden, Attorney in the Digital Security Unit at Microsoft
Mieke Eoyang, Senior Vice President, National Security Program at Third Way
Moderated by Eli Sugarman, Director of the Cyber Initiative at the William and Flora Hewlett Foundation
This one-hour live virtual event and Q&A took place on Wednesday, December 2 at 1130 PST/ 1430 EST and was open to the public.


Nagorno-Karabakh: Tanks, Drones, and Implications for 21st Century Warfare
The current Nagorno-Karabakh conflict between Armenia and Azerbaijan raises interesting questions with potentially broad consequences regarding 21st-century warfare as modern weapon systems are deployed alongside traditional ones. As unmanned weapon systems become more ubiquitous, the role of tanks on the modern battlefield is being questioned. Will tanks continue to maintain the same importance to ground warfare that they've had in the past? What changes do relatively cheap drones bring to the battlefield? How does electronic warfare play into these dynamics? IST is hosting this conversation to better understand these questions, with experts on emerging military technologies, tank warfare, and electronic warfare.
Join us for the discussion with:
Sam Bendett, Research Analyst with the Center for Naval Analyses' International Affairs Group
Ulrike Franke, Policy Fellow at the European Council on Foreign Relations (ECFR)
Whitney McNamara, Electromagnetic Spectrum/Emerging Technologies Policy Subject Matter Expert working with the US Military
Robert Bateman, Writer, Historian, and Former U.S. Army Officer
Moderated by Leah Walker, Defense Technology Associate, IST
This one-hour live virtual event will take place on Friday, October 30 at 1000 PT/ 1300 ET and is open to the public.

---
Governing AI Effectively – A Bipartisan Discussion
The effective governance of AI is one of the great challenges of the early 21st century. The AI in Government Act of 2020 (HR Bill 2575) represents a much-needed step forward to help address this challenge as the United States prioritizes artificial intelligence across the Federal Government, and embraces broader considerations on the effective adoption and governance of AI. The provision of oversight responsibilities and formalizing of roles reflects the recommendations of both industry leaders, those of the National Security Commission on AI (NSCAI), and academia to centralize efforts, identify resources, and promote equitable best practices in AI across the government. As the AI in Governance Act of 2020 passes the House of Representatives and moves toward becoming law, the Institute for Security and Technology (IST), who works with industry and government experts to solve emerging security threats, is excited to welcome Rep. McNerney (D-CA), Rep. Olson (R-TX) and Safiya Noble, Associate Professor at UCLA for this important high-level public panel discussion on the bill.
SPEAKERS:
Congressman Rep. Jerry McNerney (D-CA),

Congressman Rep. Pete Olson (R-TX),
Safiya Umoja Noble, Ph.D. Associate Professor at UCLA, specializing in issues of algorithmic discrimination and technology bias.

Moderated by Philip Reiner, CEO, Institute for Security and Technology (IST)
This one-hour live virtual event took place on Friday, October 23 at 1100 PST/ 1400 EST. This event was open to the public featuring a live Q&A session. RSVP is required to attend.
---
Active Measures, Disinformation Campaigns, and Election Security with Nellwyn Thomas and Thomas Rid
The evolution of technology and the use of active measures enables information operations to strike deeper and more efficiently into the heart of democratic systems. These operations target voters, political campaigns, and the very democratic institutions that seek to uphold free speech and freedom of information. Disinformation is not new. However, today's digitized and networked reality allows for precise targeting of manipulated messaging, at scale, and with lightning speed. This new technology brings unprecedented levels of risk to election security and threatens the integrity of the electoral process.
To speak on the historical and current challenges of political warfare and disinformation and what is being done to address these threats, IST hosted this high-level event featuring Nell Thomas, the Chief Technology Officer for the Democratic National Committee (DNC); Thomas Rid, a renowned expert on disinformation and information technology and author of Active Measures; and Vera Zakem, Senior Technology and Policy Advisor for IST. Moderated by Mike McNerney, IST's board chair, and the Chief Operating Officer of Arceo, this conversation will cover active measures, the history of information operations, the evolution of modern disinformation campaigns, and their implications for today's election security.
SPEAKERS:
Nell Thomas, Chief Technology Officer, Democratic National Committee (DNC)
Thomas Rid, Professor of Strategic Studies at Johns Hopkins University's School of Advanced International Studies and Author of Active Measures
Vera Zakem, Senior Technology and Policy Advisor for IST and Founder and CEO of Zakem Global Strategies
Moderated by: Mike McNerney, Board Chair, IST and Chief Operating Officer of Arceo
The Institute for Security and Technology (IST)'s Election Security Initiative aims to bridge the public and private sector's leading experts to better understand the implications of disinformation campaigns, cyberattacks on critical election infrastructure, foreign interference, and the exploitation of emerging technologies on the upcoming election. By creating tangible, practical, and impact-driven solutions, this initiative aims to enhance the protection of elections and voting infrastructure for future democratic processes.
---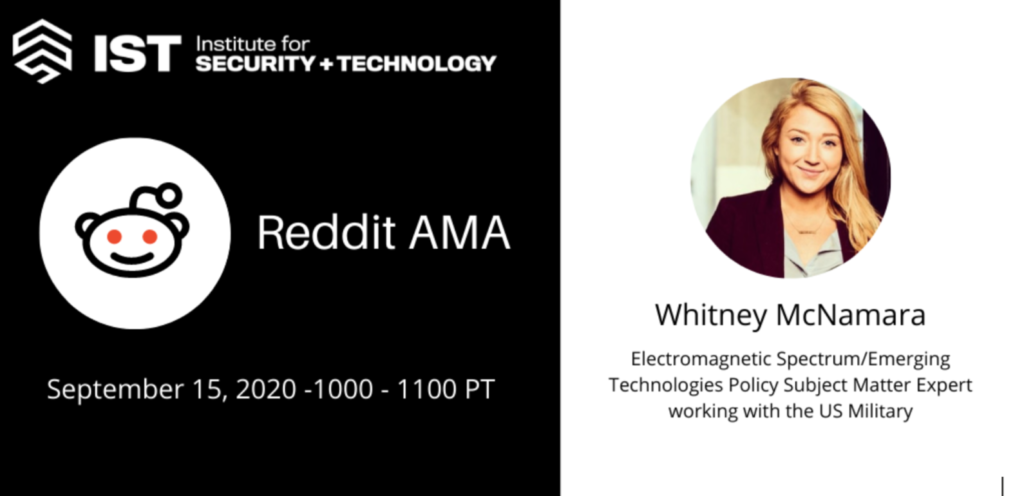 Virtual Event and Live Q&A with Mr. Nand Mulchandani, Acting Director of the U.S. Department of Defense Joint Artificial Intelligence Center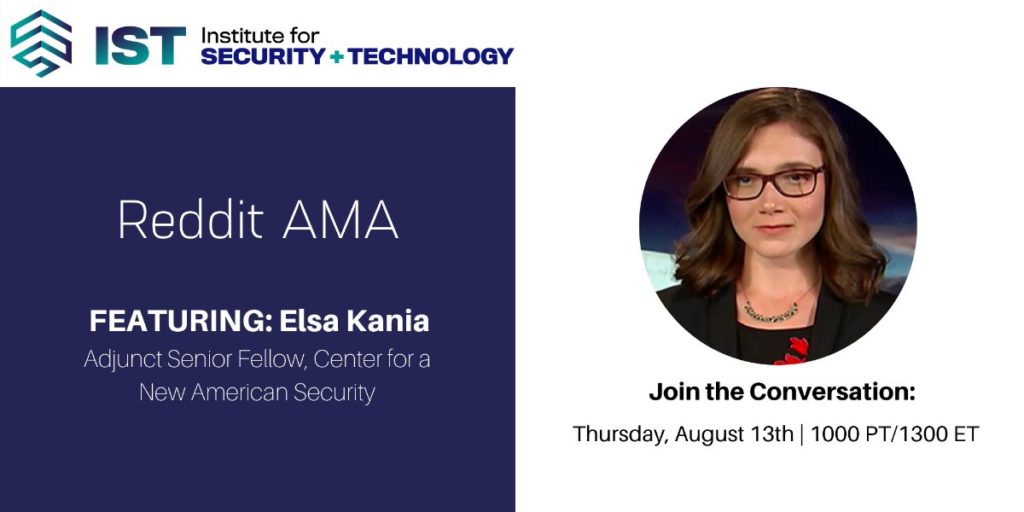 The Institute for Security and Technology is facilitating a Reddit AMA with Elsa Kania, an Adjunct Senior Fellow with the Technology and National Security Program at the Center for a New American Security. Elsa researches Chinese military innovation and the geopolitical implications of emerging technologies like 5G and artificial intelligence.
Evolving from the Technology for Global Security, The Institute for Security and Technology (IST) hosted a rebrand and relaunch event featuring conversations with General Joseph Votel (Ret,), Camille Stewart, Esq, Dmitri Alperovitch, Sarah Sewall, Craig Newmark, and Lauren Bean Buitta on emerging security issues.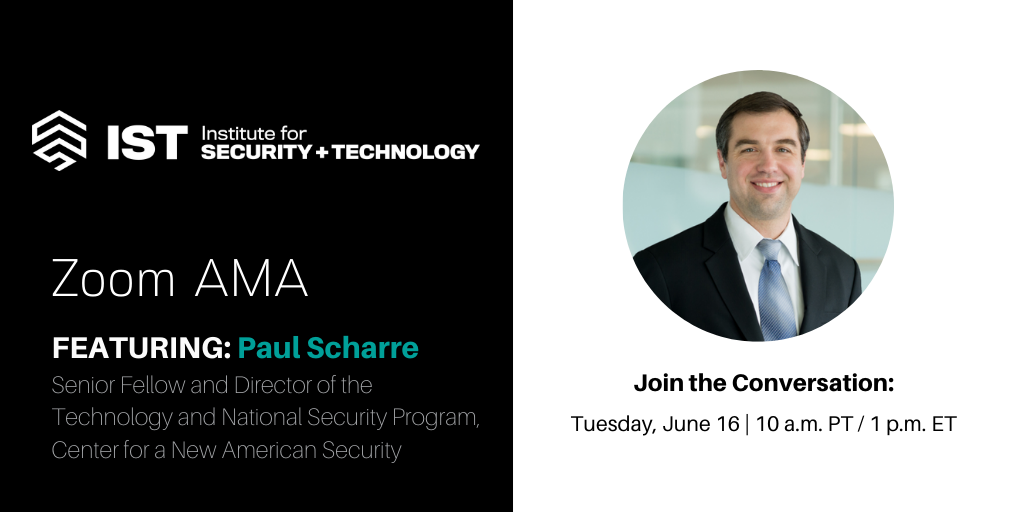 The Institute for Security and Technology facilitated an online AMA with Paul Scharre, Senior Fellow and Director of the Technology and National Security Program, Center for a New American Security. This AMA discusses Paul's research at the intersection of strategy and emerging technologies such as artificial intelligence, robotics, unmanned systems, and autonomy for military use.

CHECK OUT OUR UPCOMING EVENTS